CTW
In House Welding
12 welding sets of 600 Amp MIG sets manual and semi-automatic processes
Welding – 500 amps MMA sets x 10.
Submerged arc twin head machine 10 meters long x 1500 diameter x 10 tonnes capacity
Submerged Arc column and boom with 4 metres long and 1 metre diameter x 5 tonnes capacity
Automatic oscillating head table roll welding 2 x 500-amp machines
TIG welding sets x2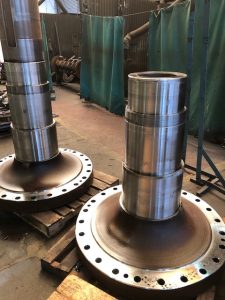 Machining/ Milling / Grinding
Centre lathes up to 5 metres between centres, swing 500mm
Vertical borer 36" Webster and Bennet
Surface Grinding, 60" rotary table and 2 metre x 600-line grinding
Drilling
Radial drill– with a maximum height of 1.5 metres and a maximum column with 4 Morse spindle
Welding Positional equipment
Manipulators ranging from 1 tonne to 5 tonnes
Spiral welding machine 3 metres between centres with 500mm swing
Spiral welding machine 1 metre between centres and 250mm swing
Overhead cranes
10 tonne overhead crane.
3 tonne overhead crane.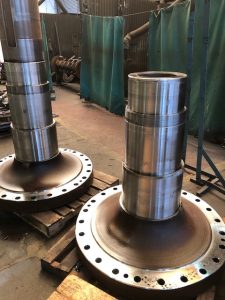 Independant Jib Crane
Fabrication bays have 1-ton swivel Jib cranes
Transport – Delivery & Collection Vehicles
Drop side 1.5 tonnes.
Pick up truck – 2 off x 1 tonne
Van x 1 tonne
Van x 800KG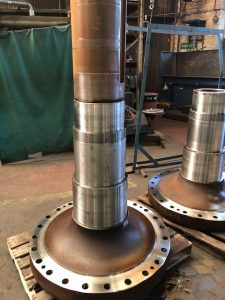 2D & 3D CAD Design
Solid works software package to enable pictorial 3D CAD drawings for shop floor.
CTW Hardfacing Site Welding & Repairs
CTW Hardfacing have highly skilled welding engineers and associated equipment to perform on site repairs using various Hardfacing consumables and methods
Bespoke mechanical fitting on recycling equipment
CELCOAT – Thermal Spray Coatings
Spray bays with portable lathe, 3 metres between centres with 270mm swing
Spray bays with portable turntables up to 1.5 metre diameter
Grit blasting hand cabinets
Grit blasting room for large items